It is not known whether there are any structural irregularities, or what type of irregularities may exist. The building hasn't been inspected sufficiently to determine this, or this information about the building is unavailable.
Use this attribute if the building does not have a façade that is parallel to a street. Choose any other façade and define Direction X parallel to it. Direction Y will  be perpendicular (orthogonal) to Direction X. This includes buildings that are not located next to a street or their orientation is not parallel to the street. It also applies to any building where information about its direction is unavailable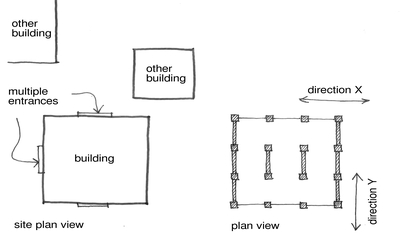 Unspecified Direction - when street cannot be identified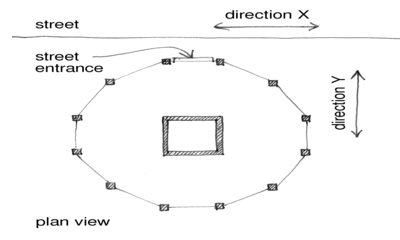 Unspecified Direction - case of a building with a curved plan shape
These systems include earthen domes and vaults.
Earthen masonry domes, Iran (F. Naeim, World Housing Encyclopedia Report 104)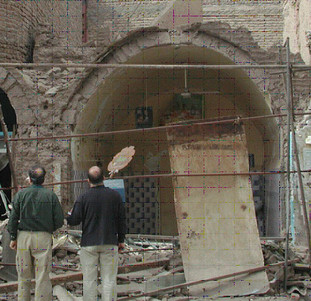 Collapse of earthen buildings with domed roofs in the 2003 Bam, Iran earthquake (F. Naeim, World Housing Encyclopedia Report 104)
Lower bound and upper bound of the year in which the building was first completed (e.g. 1930-1940). This is the best estimate of construction date if it is not known precisely.
Masonry spans between bearing walls and is overlaid with fill. A flat floor surface is provided and is often overlaid with flooring. Includes two-way vaults and masonry domes.
Brick masonry vault (M. Lutman)
Brick masonry double vault, Italy (S. Brzev)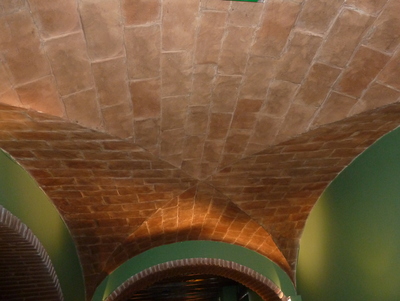 Stone masonry double vault, Portugal (S. Brzev)